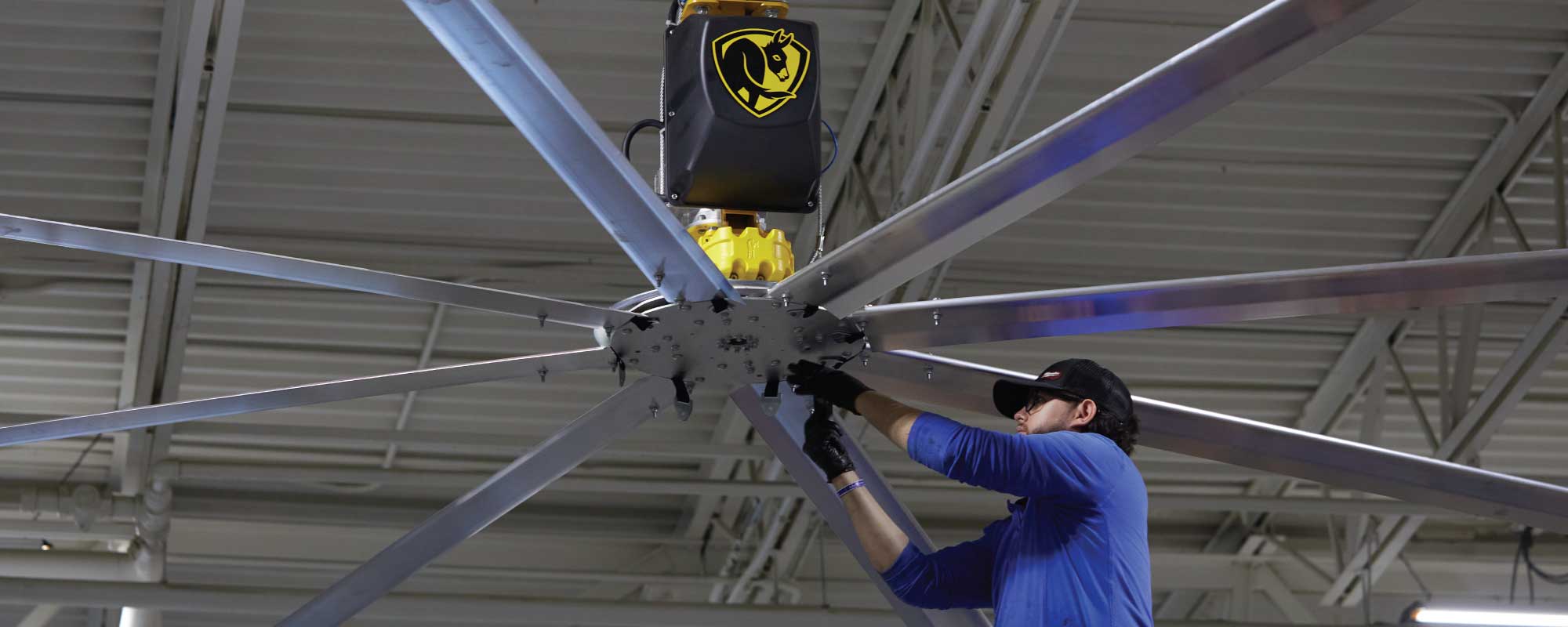 Builders for Warehouse Cooling Fans
You can't fight Mother Nature. When she wants it hot, it gets hot. And no warehouse in the world can escape her fury without some help. What can you do when your employees are too overheated to be productive?
It's not just the weather that heats things up inside your warehouse. Roof materials have been known to reach up to 190 degrees Fahrenheit (88 degrees Celsius), and much of that heat transfers into the building. Machinery inside the building generates heat, as well, causing the air—and your workers—to get warmer.
Big Ass Fans builds warehouse cooling fans that combat the harshest conditions both nature and machines can dish out. We manufacture the most effective solutions to help your employees feel cool and comfortable in even the hottest of warehouses—all while saving money on your energy bills.

The World's Best Builders for Warehouse Cooling Fans
No matter how hot, stuffy, stifling, or unbearable your industrial facility might get, Big Ass Fans has an airflow answer that is guaranteed to keep your employees feeling cool—and do it efficiently and economically.
We build a variety of warehouse cooling fans to solve every kind of airflow issue. From huge ceiling fans to directional oscillating warehouse fans, we've got high-quality options that work for any industrial building layout.
As the world's leading builders of warehouse industrial fans, we offer choices for just about any facility and any budget, including HVLS (high-volume, low-speed) ceiling fans, directional fans, large fans, small fans, mobile fans, indoor or outdoor fans, multidirectional fans, and more. Plus, we have a range of tech and upgrade options to ensure your team feels as comfortable as possible.
What Makes Our Warehouse Fans Different
Big Ass Fans does so much more than build warehouse fans. Our team is with you every step of the way, both before and after we manufacture your fan. We provide services that ensure your warehouse feels as cool as you need it to be, including:
Pre-purchase—Our airflow experts can give you a custom analysis of your industrial facility using our groundbreaking 3D

SpecLab®

software. You'll get an accurate, one-of-a-kind view of how Big Ass Fans' products will work in your space.
Installation—We certify our licensed technicians so they're fully equipped to install your system correctly and ensure it is running optimally with as little facility downtime as possible.
Post-installation—Our team stays with you long after installation to ensure your products are doing their job. We provide best-in-class services including on-going cleaning and calibration as part of our preventative maintenance program, industry lead warranties and expert service any time it's needed.
And all our work is guaranteed to create and sustain a comfortable warehouse environment for years to come.
How to Work with Big Ass Fans' Builders
Working with the pros at Big Ass Fans is a breath of fresh air. Literally. Our friendly, professional team is eager to work with you to find the best solution for keeping your crew feeling cool.
There's only one way to find out. Contact us for customized recommendations and to get a quote from the number-one builders of warehouse industrial fans.

Contact us to get a custom quote