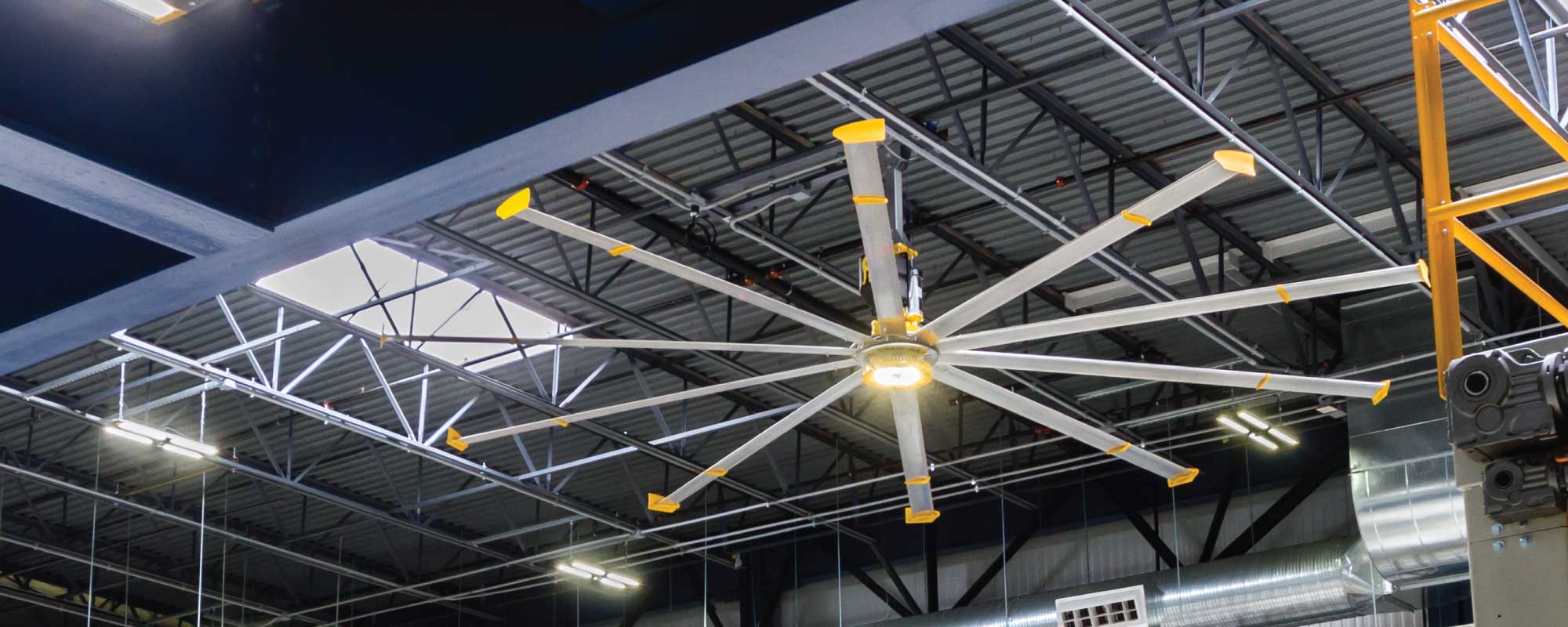 Do your employees complain about hot working conditions? Do they seem fatigued halfway through the workday? Is your company losing money because your workers are too uncomfortable to be productive?
If you have a warehouse or other large industrial building that gets overheated during the hot months, then you are losing money from decreased employee productivity. And if you try to solve that problem with air conditioning alone, you'll lose even more money from expensive energy bills.
Fortunately, there's a solution that can make your employees more comfortable and help them be more productive—all while cutting your energy expenses significantly. You need big fans for warehouses.
Different Types of Fans for Warehouses
If you've ever seen a large warehouse or factory floor with tiny, bedroom-sized ceiling fans, you may have noticed that they don't really do much. No matter how fast they spin or how many are installed, smaller fans just aren't capable of moving air effectively through a large, wide-open (and hot) area.
And the employees are still sweating.
The most powerful fans for warehouses are big. VERY big—anywhere from 8 to 30-feet in diameter. They're able to circulate air highly efficiently throughout a huge space, all while rotating at a lower speed and using far less energy than small fans or air conditioning.
There are a variety of different fans to choose from, including big ceiling fans, directional fans, and mobile fans—all of which come in various sizes. Many of them offer special features designed to integrate with your existing system, as well as make it as easy as possible for your fans to be efficient.
Why It's Important to Choose the Best Fans for Your Warehouse
Choosing the right fan is essential for two primary reasons. First, the best fan for your warehouse needs to make your employees feel cooler so they're able to work productively.
Second, selecting the right fans for your industrial setting is essential for the most efficient use of energy and keeping your costs to a minimum. This requires taking into account a number of variables including: room layout, building size, the type of machinery being used, the local climate, the number of people inside, and other factors like clothing and specific work function.
But you don't have to figure all that out on your own. The airflow experts at Big Ass Fans have the expertise and the software to help you configure the most optimal layout for circulating air throughout your workspace. If the goal is to help your employees feel cooler and be more productive—all while controlling your costs—you need an expert to help you find the right solution.

How We Help Identify the Best Warehouse Fans
Sometimes the right solution for helping your workers feel cooler may involve installing a combination of different fans. Some parts of your warehouse may be more difficult to circulate air through while other areas may have more employees working close together.
The best way to determine the right configuration is to have Big Ass Fans experts perform a high-tech analysis of your warehouse. Using our patented SpecLab® software, we use computational fluid dynamics (CFD) to evaluate the airflow in your space and provide a detailed projection of what it will take to improve your circulation.
The results include a 3D model of the airflow in your building, along with simulated results and recommendations for which fan(s) will solve your airflow problems.
Contact Us for a Quote on Fans for a Warehouse
Contact Big Ass Fans for your free airflow analysis. One of our trained technicians will gather all the information about your warehouse, including building measurements, and ask questions to create a tailored airflow solution for you. Since every solution is customized, we'll let you know exactly the fans that are right for you.

Contact us to get a custom quote