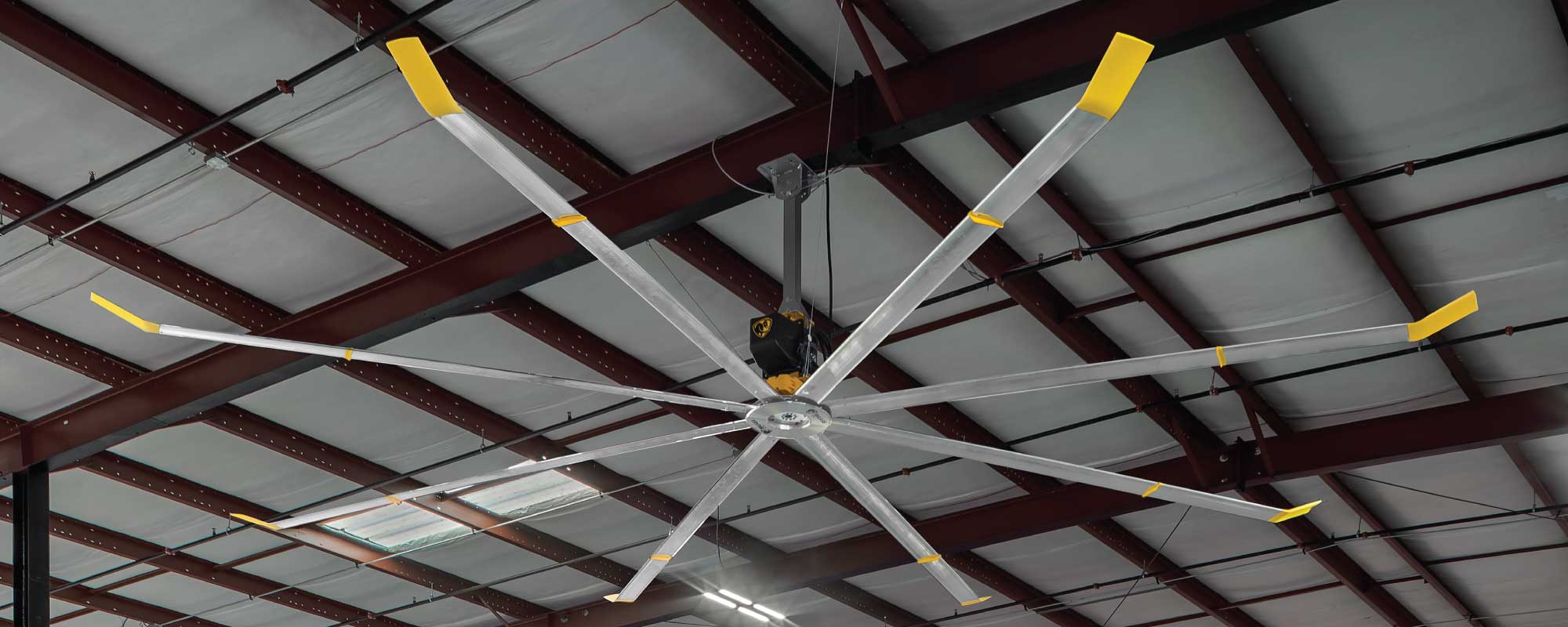 How to Understand HVLS Fan Specifications
Purchasing an HVLS (high-volume, low-speed) fan for the first time may leave you feeling a bit uncertain as to which model will work best for you and your building. If you're like the average buyer, you'll probably have at least a few basic questions, such as….
What's the difference between a direct drive motor and a regular motor? What's an IP rating? How much horsepower do you need? Does size really matter? Should you get six airfoils or eight? What's a BAFCon?

If you're wondering how to read a spec sheet for an HVLS fan, you're in the right place. We'll review the basic specifications for Big Ass Fans industrial equipment so you'll be better prepared to make a smart decision about buying your next HVLS fan.
HVLS Fan Specifications
Every HVLS fan model is built with certain features that make it unique. Here's an overview of the primary attributes you can expect to find on every HVLS fan model.
Key Features
The primary distinctive characteristics of each HVLS fan model are almost always listed first. Qualities such as the number of airfoils, type of motor and/or gearbox, expected airflow coverage, safety features, and available upgrades are included in this section of the spec sheet.
Diameter
Diameter indicates the entire width of the fan from one end of an airfoil to the opposite side. It's the full size of the fan while it's spinning. The size you choose is determined by the dimensions of the room in which the fan will be installed as well as the volume of air you need to circulate.
Motor
Every HVLS fan comes equipped with a motor that powers the fan. Motors typically are available in a range of 1.5 to 2.5 horsepower (HP). Direct-drive motors, like the Neodymium magnet motor that powers the Big Ass Fans Powerfoil® D, are designed to run virtually silently and built to last maintenance-free for decades.
Mounting
Where you place your fan plays a major role in its effectiveness in your building. It needs to be centered in the best spot for maximum airflow, as well as just the right height from the ground and distance from the ceiling. Big Ass Fans specification sheets indicate which mounting options—such as I-beams or bar joists—are available for each fan model.
Warranty
Spec sheets will also tell you what kind of warranty is included with the fan. Typically, the higher-end models will come with longer warranties that cover the electrical and/or mechanical functions of the HVLS fan.
Technical Specifications
While it's not surprising that engineers would be drawn to the technical specifications of an HVLS fan, these details can be quite helpful in informing you how you can expect the model to perform in your environment.
This section is particularly helpful as a reference for determining the right fit for your building. You'll find precise measurements for a fan's dimensions, weight, speed, electrical requirements, motor horsepower, height clearance, and maximum operating temperature.
Construction Features
You can find which kinds of parts are built into each HVLS fan model in this section of the spec sheet. Here you'll see descriptions for the airfoils, motor and gearbox, onboard VFD (variable-frequency drive) features and options, mounting features, safety features, and color options.
This section also includes various industry ratings for each part that requires it. For example, you'll find IP ratings (ingress protection), which indicate what kind of protection from elements like dirt and water the casing will provide. The gearbox rating for the Powerfoil® X is IP56, meaning that it offers level 5 protection from solid matter (such as dust or tools) and level 6 protection from liquids. The higher the number, the better the protection.
Controls
Since HVLS fans are installed up high and out of reach, they require controls to operate. The specification sheet indicates which type of controls each model comes with (whether standard or optional) as well as their industry protection rating.
You'll also find whether the controls can be integrated into other automated building systems such as fire suppression. If the fan model can be upgraded to Big Ass Fans' BAFCon controls, the spec sheet will indicate it here.
Still Have Questions? Talk to an HVLS Fan Expert
Specification sheets can be a very helpful reference for the average buyer. Even better, however, is talking directly to an airflow expert about your needs and which HVLS warehouse fan will work best for you. The professionals at Big Ass Fans are always ready and eager to discuss the details of each model so you can make the smartest, most informed decision possible about your next fan purchase.
You can speak with an airflow expert today! Contact us here to set up a free consultation to chat about how an HVLS fan can provide comfort and energy savings for your company.

Contact us to get a custom quote