If you've never purchased a warehouse fan before, you probably have some questions. We've made the process easy by providing a simple overview of the types of fans you can find at Big Ass Fans.
Buying a warehouse fan can be exciting…if you know what you're looking for. This guide will get you up to speed on the types of fans that will keep you and your employees feeling cool.
Big Fans for Warehouses
Fans are fairly basic machines. An electric motor rotates a set of blades and forces air in one direction. The breeze flows across your skin, evaporating moisture from your body and causing you to feel cooler.
A lot has changed with fan technology in the last 20 years. The old thinking was simple: the faster the fan spins, the more air it circulates. But that approach didn't work very well in large spaces like warehouses.
So when Big Ass Fans introduced the HVLS (high-volume, low-speed) fan, it was a game-changer. Big warehouse fans rotate at a lower speed but can circulate a higher volume of air throughout a huge building. The results are dramatic, and now you'll find big warehouse fans all over the world.

Temperature Control with Warehouse Cooling Fans
In hot environments like Florida and Texas, the heat in warehouse-type buildings can be sweltering. That's bad news for employees who have to work eight-plus hours a day in unbearable conditions. It's bad news, too, for businesses who are losing people, productivity and profits because their workers are physically stressed.
Maintaining a comfortable temperature in an industrial facility can get expensive. Air conditioning and heating can be somewhat effective but can cost companies tens of thousands or even hundreds of thousands of dollars to install and operate.
How do you cool off the people in a warehouse without killing your budget? Can you cool people in a warehouse without AC? Is there a more affordable way to reduce humidity or stay warmer in the winter?
A much more effective and affordable solution is the HVLS warehouse cooling fan. While it doesn't actually lower the temperature in a large building, big warehouse fans can make it feel much cooler for the people inside. (Remember the part about the air flowing across your skin?) HVLS fans are highly efficient at making a huge, hot space feel significantly cooler, and for much less cost than AC.
How you cool a warehouse with fans—and how you take care of your employees—are solutions that go hand in hand.
About Big Ass Fans' Manufacturers
Big Ass Fans is the original builder of warehouse cooling fans. Made by an industry-leading team of engineers, designers, and scientists, Big Ass fans come in a wide variety of sizes, styles, and functions for creating a more temperate environment in your industrial building.
These aren't just big fans; they're technological advancements that can provide maximum comfort in any large space.
When Big Ass Fans builds a fan, we do it with the highest caliber quality, innovation, and precision.
Our job doesn't end after we manufacture the fans. We certify our installers according to the strict factory standards to ensure perfect functionality. The Big Ass Fans team also provides preventative maintenance, calibration, and service so your fan runs optimally for years on end.
Big Warehouse Fans by Big Ass Fans
So how do you know which big fan is best for your warehouse? Here's a handy overview of the big ceiling fans manufactured by Big Ass Fans.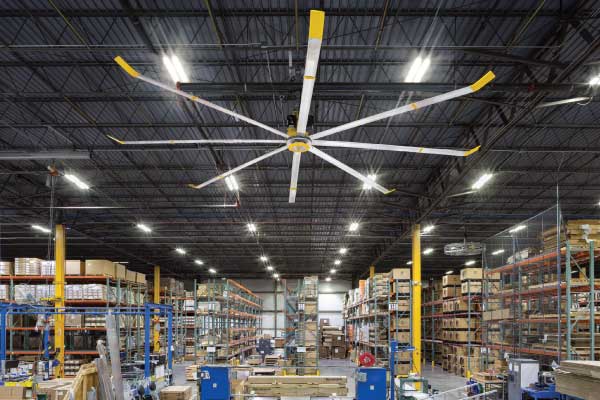 Big Ass Fans' flagship product, the Powerfoil X, is the gold standard for big ceiling fans for warehouses. Manufactured by hand and with the highest quality safety features, it provides maximum airflow even in the harshest conditions. With diameter sizes ranging from 12-feet to 30-feet (3.6 to 9.1 meters), it comes with eight patented airfoils and the largest hub in the industry. This fan is powerful, quiet, and as effective as it gets. And no one can beat its 15-year mechanical warranty.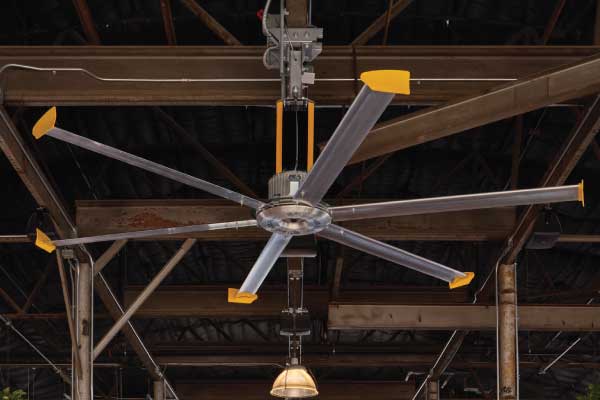 This HVLS fan for warehouses exemplifies what high-tech, high-performance is all about. It's a premium, direct-drive fan with an IP66 rating, making it ideal for tough, gritty conditions like extreme heat, dust, and humidity. Its six airfoils come with winglets to maximize airflow either indoors or outdoors. It's built with more redundant safety features than any other big warehouse fan and can integrate with your fire suppression system. Plus it comes with a variety of upgrade features like wall-mounted controls, making it ideal for just about any environment.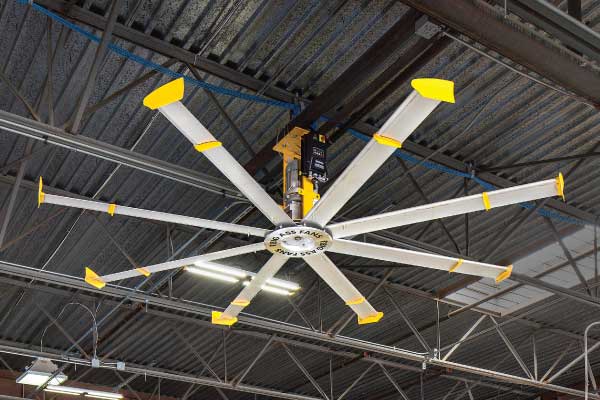 If you're looking for a durable workhorse of a fan, the Powerfoil 8 won't let you down. Everything about it is industrial strength, from the motor and gearbox to the oversized hub system. It offers top-of-class customizable features such as extended hybrid airfoils for angling airflow over obstacles in your building. This fan for warehouses is even designed to eliminate turbulence at the airfoil tips to enhance energy efficiency.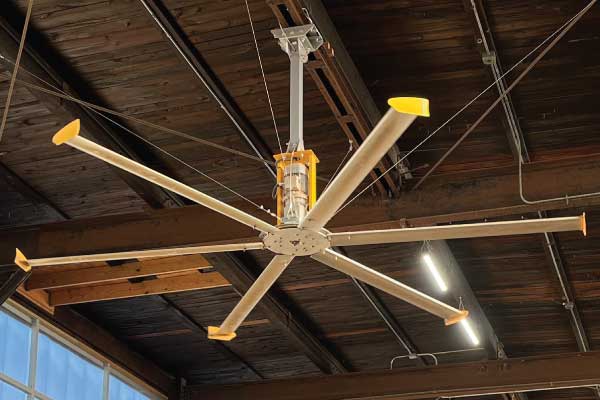 Maybe you love the benefits of massive air circulation in your warehouse but need to stick to a budget. The Basic 6 makes big warehouse fans affordable while also reducing your energy bills. That's a win-win. It may not have all the fancy features of our other fans, but it still gets the job done by keeping your employees cool and happy. And with a 7-year mechanical warranty, it's always a safe investment.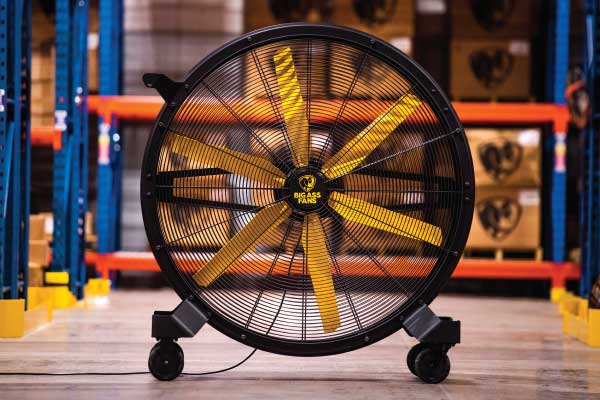 For warehouses that need flexibility and control over their airflow, a large barrel fan may be what you're looking for. It comes fully assembled on casters so you can roll it out of the box and onto the factory floor. With an adjustable speed dial, indoor/outdoor capability, and a quiet motor, it offers features that keep you cool and save energy.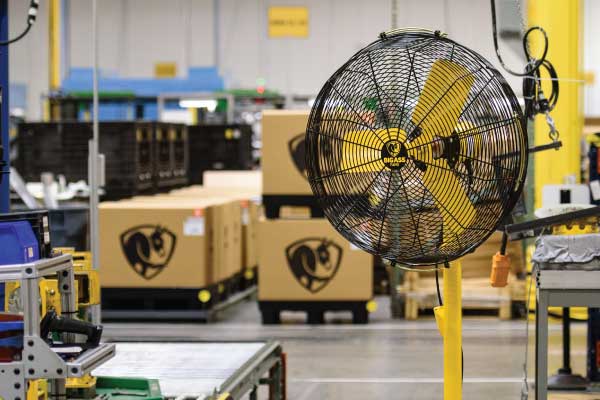 When space is limited but cooler airflow is still needed, this directional fan can be installed virtually anywhere in your warehouse. You can mount it on a pedestal, a wall, an I-beam, a C-channel, or with a swivel arm. It's both quiet and powerful and is available in several diameter sizes. With panel controls and optional motion sensors, it's the smartest directional fan on the market.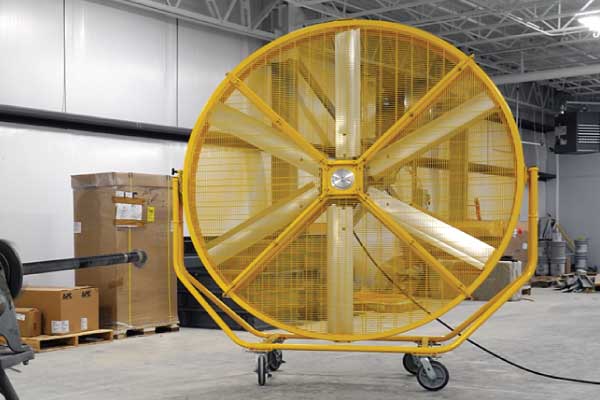 Now this is a Big Ass fan. The AirGo is an 8-foot-tall mobile fan that uses the same efficient airflow technology as our ceiling fans. It's powerful enough to blow away the competition because it's powerful enough to blow an ultimate amount of airflow wherever your warehouse needs it. You'll find the AirGo in industrial settings like factories, warehouses, hangars, and workshops.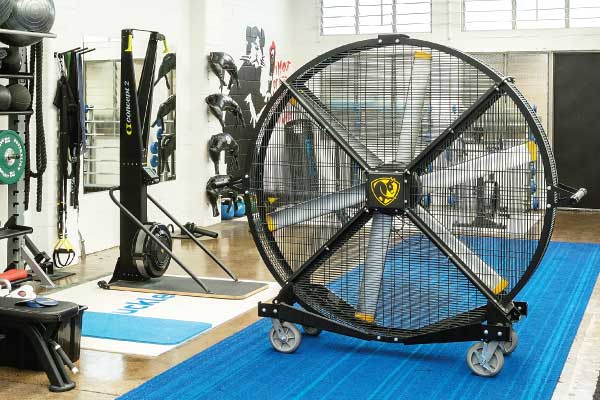 If you need a fan to go where no other fan can go, you can count on the Black Jack. It's designed to be rolled by one person through even the narrowest of aisles, the most crowded repair shops, and just about any door. It's tough enough to take whatever your warehouse can throw at it, including low-pressure water jets when you need to hose it down. Plus, it's safe enough to use anywhere, including the outdoors.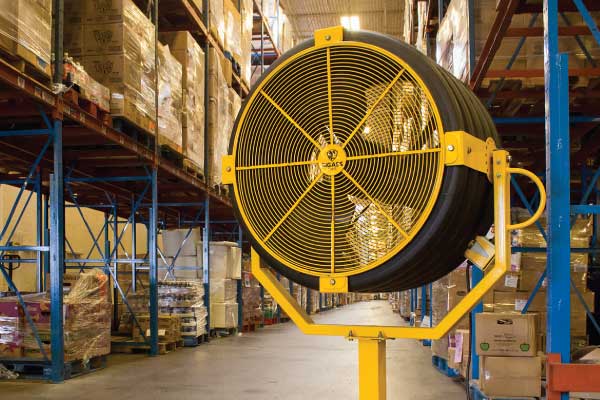 This is, hands-down, the toughest directional fan ever made. Constructed with an industrial-grade steel frame and high-density polyethylene housing, the Yellow Jacket can be mounted just about anywhere with 360-degree rotation. It's also the only oscillating warehouse fan from Big Ass Fans. Its optional oscillation kit gives you even more control over your airflow.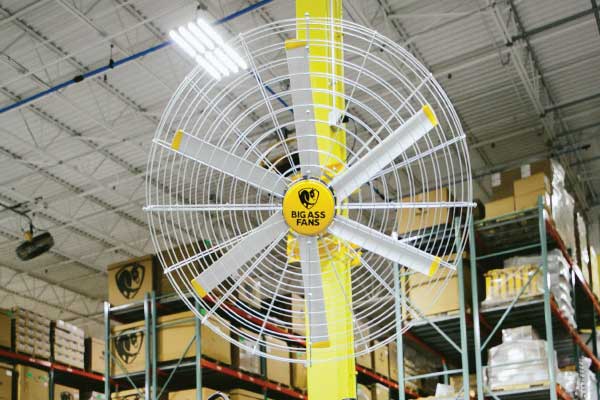 If flexibility is what you're looking for, the Pivot has more possibilities than any other fan can imagine. This 6.35-foot fan has more than 1,000 operational positions and a virtually infinite number of speeds. It's quiet but powerful—you can feel its breeze more than 120 feet away. No matter what type of industrial facility you're in, the Pivot most certainly has options that will work for you.
Also known as swamp coolers, these units reduce the temperature by using the eco-friendly method of water evaporation. These energy-efficient units can spot-cool spaces up to 6,500 square feet (600 square meters) by as much as 33 °F (18 °C). They're portable, quiet, and can be combined to cool even larger spaces or harsher conditions. With four models to choose from, you can integrate these coolers with Big Ass fans for the ultimate cool-down experience.
Why Lower-Priced Warehouse Fans May Not Be the Best Warehouse Fans
It's tempting for some people to opt for big warehouse fans that cost less than the world's best. But all industrial warehouse fans are not created equal. Lower quality warehouse fans don't provide the efficiency, durability, and effectiveness that harsh conditions demand. These off brand fans typically don't come with the extensive warranties, industrial-grade parts, or the patented technology that Big Ass Fans provide.
The best warehouse fans get the job done and more. Everything about them is of the highest industry quality, including the motors, safety features, mounting and installation, energy efficiency, and integration with existing systems. When it comes to keeping your people in the warehouse feeling cool, the best warehouse fans are always worth the investment.
If you want the best warehouse fans, consider the impact that service can have on your business and your budget. Big Ass Fans provides best-in-class service anywhere our fans can be installed. No matter the need or problem, our team is ready to take care of it.
Air Flow in a Warehouse
Some warehouse fans aren't designed to optimize airflow in a warehouse. Just because a fan is spinning overhead doesn't mean you're getting good warehouse air circulation.
If you're serious about airflow in your warehouse and keeping your employees cool, this is one area where you shouldn't settle for less. Big Ass Fans is serious about creating comfortable airflow everywhere your building needs it, and we have the technology and equipment to guarantee that it happens.
Request a Quote for Large Warehouse Ceiling Fans
Still not sure which large warehouse fan is right for you? No problem! Our team of experts can give you a custom analysis of the airflow in your building, helping you find the perfect Big Ass fan for your needs.

Contact us to get a custom quote