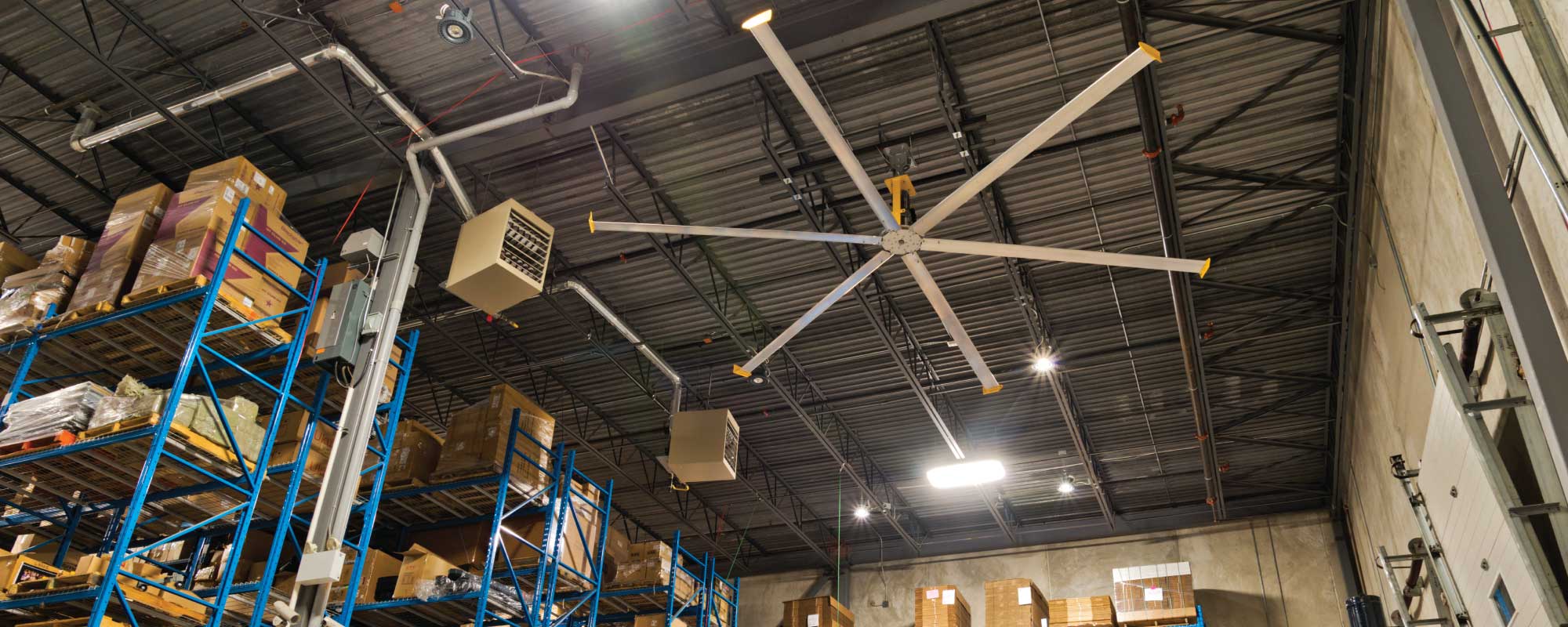 If you're wondering whether warehouse roof fans (more commonly referred to as ceiling fans) might be a good solution for making your warehouse more comfortable for your employees, you're on the right path.
Warehouse roof fans are a smart solution for hot buildings because they're capable of creating a pleasant, healthy environment where your workers can be more productive. These types of fans provide significant, tangible benefits for companies who care about the well-being of their staff.
The more you know about fans and how they work, the better you'll be prepared to choose the right one. But you don't have to be an expert. We'll walk you through the basics of why warehouse roof fans are a superior option for creating a comfortable environment in your warehouse.
What Makes a Warehouse Roof Fan Effective
When warehouses get too hot, employees are less productive. Their body temperature increases, sapping their energy and making it more difficult for them to concentrate. Cooling your team down with air conditioning is possible, but it's very expensive to install and run—especially in huge rooms like warehouses.
Big warehouse roof fans, however, are able to circulate massive amounts of air. While it doesn't necessarily drop the temperature in the room, the airflow helps people feel cooler. As the breeze flows across their sweaty skin, a process called "evaporative cooling" causes the body to feel cooler and function normally again.
Why the Ceiling Is Best for Fans in a Warehouse
While cheaper, smaller, mobile fans are able to cool a single person, they're also noisy, disruptive, use a lot of electricity, and only work in a small area.
In order to move air effectively through a warehouse, a great amount of pressure is needed. Big fans installed on the ceiling are in the perfect position to push air where it's needed—through the whole interior of the building.
Big warehouse roof fans get the job done, and they do it efficiently, requiring far less energy than air-conditioning. They also run quietly, so they won't interfere with all the work happening below.

How to Choose the Best Fans for Your Warehouse
It's exciting to know a big warehouse fan can bring major relief to your overheated employees. Yet with so many options available for warehouse roof fans, it may seem difficult to know which fans will work best in your building.
Fortunately, you don't have to guess. In fact, the airflow experts at Big Ass Fans have the knowledge and the tools to figure out which fans will give you the optimal solution for your warehouse. Using our computational fluid dynamics software called SpecLab®, we're able to use precise measurements to simulate how airflow can be maximized in your building.
SpecLab provides you with a visual representation of how certain warehouse fans can improve your air circulation. With the right data, our team can make recommendations for which fans will provide the greatest impact. You can be confident you've made the best possible choice.
Contact Us for a Quote on Roof Fans for Warehouses
The next step is easy. Just contact our team to find out how warehouse roof fans can keep your team comfortable and productive. We'll answer your questions, be transparent about your options, and explore the best solution together.

Contact us to get a custom quote